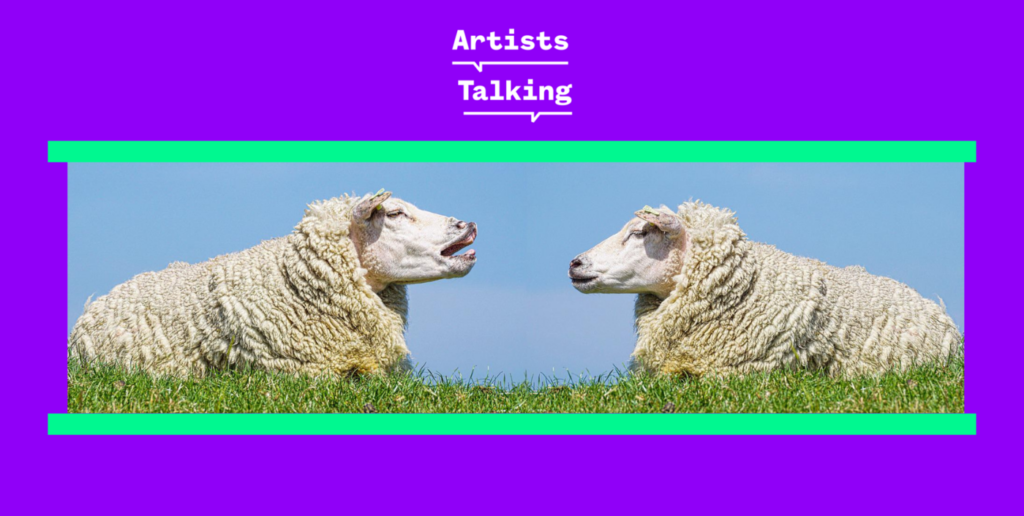 Artists Talking is a series of co-created public conversations in English with contemporary artists working in Finland.
The language of the program is English.
The conversations will be between a host and a guest artist. The host and guest artist co-create the dramaturgy of the conversation to reflect upon professional and personal questions, themes, and concerns they share and don't share yet. The host and Artistic Director of Artists Talking is Alexander Komlosi.
Audience members will have an opportunity to ask questions at the end of the discussion, then continue to open up the topics discussed more deeply during an informal reception after the talk while they enjoy complimentary drinks and refreshments.
The artists participating in this project include a diverse group of Finnish-,
Swedish-speaking, and international artists from various artistic fields working in Finland.
They talks will take place 1-2 times a month at Yö Gallery in downtown Helsinki starting spring, 2023. The conversations will be recorded and presented as a podcast series of the same name in order to reach a wide audience in Finland and internationally.

The project aims to foster a quality cultural program for artistic communities and the general public. It will create a supportive and casual space to explore each artist's personality, profession, and the creative process. It will build a shared intercultural space where Finnish and non-Finnish artists have an opportunity to reflect on their work and artistic lives in public. The talks will allow artists and audiences to meet, learn from one another, and deepen mutual contact.
PROGRAM AND SCHEDULE
Saturday, March 4th, 2023
Jenni-Elina von Bagh
Dancer, choreopgrapher, and the Artistic Director of Zodiak, Centre for Contemporary Dance, as of February 2023.
Saturday, April 1st, 2023
Mikhail Durnenkov
Playwright. His play Lyhyt episodi sienisivilisaation universaalissa historiassa was recently presented (February 2023) at Espoo Kaupunginteatteri with Klockriketeater.
Saturday, April 22nd, 2023
Meri Helmi Särkkä
(Formerly known as Mariam Haji) is a Bahraini multi-disciplinary fine artist who currently lives and works in Porvoo.
Saturday, May 20th, 2023
Charlotta Kerbs
Singer, musician, and songwriter. Currently active with bands such as Afrojazz Quintet and Charlotta Kerbs and the Strays.
For detailed bios of our host, guest, and staff, please see our blog.
An informal reception, with complimentary refreshments, will follow each talk.
TIME
Talks start at 7 pm.
Doors open at 6:45 pm.
Talks last about an hour and a half, including 15 min for audience questions.
Mingle with complimentary refreshments after the talk.
VENUE
Yö Galleria
Lönnrotinkatu 33
00180 Helsinki
ADMISSION
Space is very limited. RESERVE YOUR SPOT HERE.
Voluntary admission except for groups.
Groups of 5 or more, please contact us for reservations.
CONTACT
Frida Gullichsen, Project Coordinator,
frida@culturecurrent.org, +358 40 370 6327
Alexander Komlosi, Artistic Director & Host
alexander@culturecurrent.org, +358 40 411 0706
CURATORIAL ADVISORS
Curatorial Advisors on the project include: Culture for All, Globe Art Point, TINFO (Linnea Stara, Jukka Hyde Hytti), Otso Huopaniemi, Sofia Molin, Heidi Sodinsalo, and Culture Current's Board of Directors and Advisors.
FUNDING
This project is made possible by funding from Swedish Cultural Foundation in Finland and the Arts Council Finland (Taike), as well as support from Culture Current, its members and supporting members. Thanks to them! Kiitos! Tack!
SPECIAL THANKS
...to Yö ry for their partnership on this project!