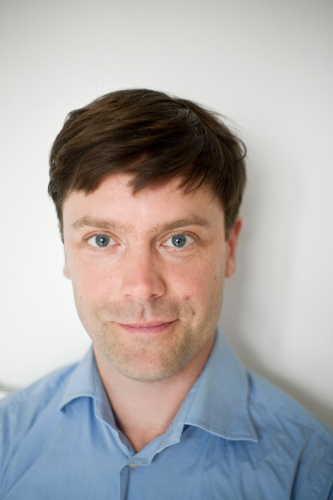 Chairman of the Board
Alexander Komlosi is a Czech-American authorial actor, director, researcher and teacher.  He has performed internationally including the Sandra Gering Gallery (NYC), the Hunter Mountain Culture Festival,  University of Boulder Colorado, Bates College (USA); Theatre on the Balustrade, Prague Quadrennial 2003,7,11 (CZ); Théâtre Toursky, Opera of Dijon (France); Wroclaw's International Festival of One-Man Theatre (PL), Kiasma Theatre (FIN), Theaterdiscounter (Berlin, Germany). His solo and group theatre projects (e.g., The Office of the Professional Human Being; Laska is Love, Love je Laska) have received grants in the USA, Czech Republic and Finland (Franklin Furnace Fund for Performance Art, Trust for Mutual Understanding, Czech Ministry and Prague City Grants, Arts Promotion Centre Finland, Finnish Cultural Foundation, etc.).  He has collaborated with various artists and companies internationally including: William Pope.L, Martha Wilson and Franklin Furnace (U.S.A.); HoME theatre, Přemysl Rut, Vladimir Javorský (Czech Republic); Golem Theatre (France); Otso Huopaniemi, Hanna Raiskinmäki, Milja Sarkola (Finland). He taught regular and Erasmus students at the Department of Authorial Creativity and Pedagogy at DAMU (authorial performance) and courses at the Prague Summer Theatre School, of which he was the Founding Director. He also worked as a scientific researcher at the Institute for the Research and Study of Authorial Acting. He has been studying (Inter)acting with the Inner Partner since 1998 and teaching it since 2001, having led IwIP workshops and courses at DAMU and internationally (Columbia University, Yale University, University of Colorado Boulder, Rose Bruford College, Central School of Speech and Drama, Theatre Academy in Helsinki, Swedish Theatre in Helsinki, as well as numerous conferences). He received his MFA and Ph.D. studying under Ivan Vyskočil at DAMU. He is currently teaching IwIP in Helsinki, Finland where he is also performing and writing. See www.alexanderkomlosi.name.
Alexander is a founding member of Culture Current.